Turbine data protocol converter P2B-Xicoy + IAS Speed Sensor including full galavanic separation of the turbine
The P2B-Xicoy + IAS data converter/sensor compatible with the CORE Telemetry from PowerBox Systems
Firmware Version 1.0
"Best in Class Turbine Dataconverter/Sensor"
Tailor made individual solution for all XICOY ECU (FADEC) compatible turbines. It comes with a IAS speed measurment kit in addition (+ IAS).

Use and Features:
Easy implementing, no PC is necessary! Plug and Play! Compatible with XICOY V10 brush- and brushless ECU (FADEC) and the fast CORE telemetry bus.
Each of the following turbines are supported with a individual template. Selectable inside the CORE TX setup menu:
30gen, X-45, 60gen, M-70XBL, VT-80, VT-90BLR & 90G, M-100XBL & ATJ100SV, 120gen, Merlin-140 & ATJ140SV, Merlin-160G 166TS & ATJ160SV, Hybl H16 & ATJ190SV, 200XBL M210TS & ATJ220SV, 260gen & ATJ250SV, 320gen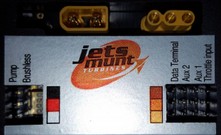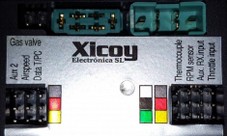 This makes the installation very easy, just select your turbine, all parameter are perfectly set then. No complex adjustment of a fuel factor.
The following ECU measured values are transmitted to the CORE radio control:
1. Turbine rotational speed (RPM)
2. EGT exhaust temperature (°C or F°)
3. Pump Pulse value with "Armed Alarm" (fast Flame-Out Warning)
4. Thrust in Newton (N or lbf), matched to the type of turbine (see above)
5. Tank content fuel amount (mL or lq oz) alarm can be set within the CORE RC TX
6. Kerosene / fuel flow rate (mL/min. or oz/min.)
7. Control stick gas default in %
8. ECU turbine accumulator operating voltage (ECU battery voltage)
9. Turbine status text indication
10. Turbine type and stick situation shown in text
11. True IAS speed with our thousend times proven CB-IAS+ sensor technology
The most important EDT data are directly visible in your CORE radio control.
Taxi tank function at your finger tip control!
Imperial units like °F, lbf, fl.oz., oz/min. and mph are selectable via the CORE TX
The operator can further use the EDT GSU terminal side by side together with our converter. Plug and Play with the CORE system
Support of up to 4 Turbines in one CORE telemetry installation (Turbine #1-4). Please ask for our multi-engine packages.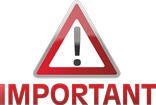 Full galvanic separation of the XICOY ECU (FADEC). These galavanic separation includes the throttle-, telemetry channel and the power supply for the ECU. This give you a maximum protection for your CORE receiver system. Full galvanic separation means No ESD (Electro static discharge) can damage your CORE receiver system.

This exclusive security feature is actually only available for CORE customer
Please see our technical white paper for further information on galvanic separation.
Future-proof!!! A supplementary software upgrade is possible (new features) 40Mhz RISC CPU (fast processing of the measure values) Nano Watt Technology Small, light, also fits also in smaller models
Detailed english manual Made in Germany
Scope of delivery: P2B-XICOY converter with all connection cables for the ECU, GSU and the CORE receiver. CB IAS Plus sensor for true IAS speed display and indication (complete pitot tube and tubbing kit) included.
Current sensor option in order to monitor the ECU battery is available too.
https://www.cb-elektronics.de/p2b-xicoy---ias.html
https://www.cb-elektronics.de/impressum.html
See screen pictures below.
Turbinen Datenkonverter P2B XICOY + IAS mit galvanischer Trennung von Turbinen- und Empfängerstromkreis

Ein Daten Protokoll-Konverter für alle CORE Empfänger mit P2B Bus. Kompatibel zu allen XICOY V10 ECU (Brushless und Non. Brushless Versionen)

Firmware Version 1.0

"Best in Class Turbine Datenkonverter/Sensor"




Einfache Inbetriebnahme, kein PC oder zusätzliches Terminal erforderlich zur Konfiguration! Plug and Play!

Schnelle Datenübertragung durch Nutzung des CORE P2B Telemetrie Interface Bus.


"Maßgeschneiderte" Unterstützung (Schubanzeige, Durchflussmenge/min. etc.) für die folgenden XICOY JetMunts Turbinen und alle anderen Turbinenhersteller die eine V10 FADEC benutzen (Brushless oder nicht Brushless ECU). Für jede Turbine gibt es ein passendes Kennfeld zur Auswahl.

30gen, X-45, 60gen, M-70XBL, VT-80, VT-90BLR & 90G, M-100XBL & ATJ100SV, 120gen, Merlin-140 & ATJ140SV, Merlin-160G 166TS & ATJ160SV, Hybl H16 & ATJ190SV, 200XBL M210TS & ATJ220SV, 260gen & ATJ250SV, 320gen





Die Auswahlmöglichkeit des jeweiligen Turbinen Kennfeld macht die Inbetriebnahme extrem einfach. Nur die passende XICOY oder V10 FADEC kompatible Turbine auswählen und alle Parameter sind gesetzt. Das umständliche Einstellen eines Pumpenfaktors ist nicht erforderlich. Es muss nur die Tankgröße vom Modell eingestellt werden. Direktes Setup bequem über das CORE Sendermenü.



Nutzen und Features:


Drehzahl der Turbine (U/min.)
IAS Geschwindigkeit mit Staudruckmessung (kmh oder mph)
EGT Abgastemperatur (°C oder F°)
Pumpen PW mit "Armed Alarm" (schnelle Flame-Out Warnung)
Schub in Newton (N oder lbf), abgestimmt auf Turbinen Typ s.o.
Tankinhalt Treibstoffmenge (mL oder lq oz), Alarmschwelle kann im CORE Sender festgelegt werden
Kerosin / Treibstoffdurchflussmenge (mL/min. oder lq oz/min.)
Steuerknüppel Gasvorgabe in %
ECU Turbinen Akku Betriebsspannung, Alarmschwelle kann im CORE Sender festgelegt werden
Turbinen Status Anzeige in Textform
Turbinen Stick Situation und Turbinen Typ in Textform

Die wichtigsten EDT/ECU Daten direkt sichtbar im Sender

Taxi tank Funktion!

Umschaltung zwischen metrischen und nicht metrischen Einheiten über den CORE Sender





Unser P2B XICOY Datenkonverter bietet Ihnen eine komplette galvanische Trennung zwischen ECU- und Empfängerstromkreis. Diese Trennung umfasst dem Throttle/Gaskanal, Telemetrie Rückkanal und eine isolierte Stromversorgung für die Kingtech ECU mit GSU. Dies bietet Ihnen die Sicherheit das eine ESD (Electro Static discharge / Hochspannungsentladung) auf der Turbinen Seite, ihren CORE Empfänger nicht schädigt.


Dieses einmalige P2B XICOY Datenkonverter "Sicherheits-Feature" gibt es aktuell exklusiv nur für Kunden des CORE Fernsteuersystems.


Der Anwender kann das XICOY GSU Terminal parallel zum P2B-XICOY Konverter benutzen (V-Kabel ist im Lieferumfang).
Zukunftssicher!! Software Upgrade ist nachträglich möglich (Neue Features)
40Mhz RISC CPU (Schnelle Verarbeitung der Messwerte) Watt Technologie
Multi- Engine Unterstützung mit bis zu 4 Turbinen bzw. mit 4 Datenkonvertern. Bitte fragen Sie uns nach unseren Muti-Engine Paketen.
Galvanische Trennung RC zu ECU Stromkreis
Klein, leicht passt auch in kleine Modelle
Ausführliche deutsche Bedienungsanleitung
Made in Germany

Lieferumfang: P2B-XICOY Protokoll Konverter mit allen Verbindungskabeln zu ECU, GSU und CORE Empfänger.
Deutsche Anleitung mit genauer Anweisung zur Inbetriebnahme.

Optional kann unser Stromsensor nachgerüstet werden.
https://www.cb-elektronics.de/p2b-xicoy---ias.html
https://www.cb-elektronics.de/impressum.html